As an estate agency you may run a number of campaigns and need to monitor performance of those campaigns. Likewise, you may want to monitor generic visitor conversions. OneDome allows you to achieve both by monitoring widget activity.
OneDome Widgets rely on Google Tag Manager in order to provide event notifications in the most flexible way. Here's the list of custom events which can be used in GTM:
| | |
| --- | --- |
| Event Name | Description |
| OneDome:BookViewingComplete | User successfully booked viewing |
| OneDome:BookValuationComplete | User successfully booked valuation |
| OneDome:MakeOfferComplete | User successfully made offer |
| OneDome:InstantValuationComplete | User successfully completed instant valuation |
Below you can find steps showing how to configure Google Tag Manager to listen to OneDome events and forward them to Google Analytics (or any other analytics you may use).
Step 1. Create new trigger with Custom Event type.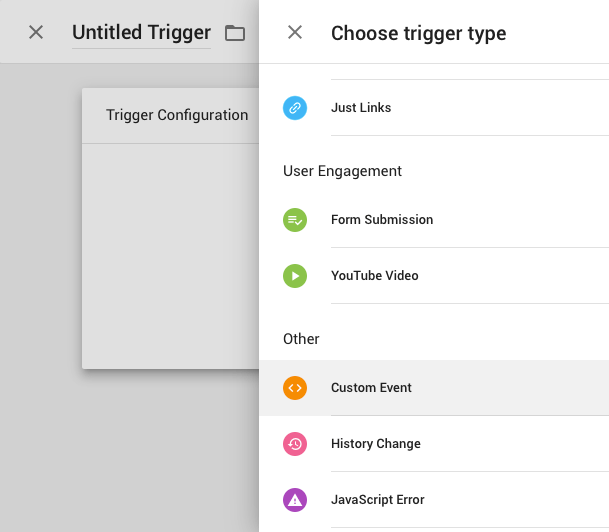 Step 2. Use one of the event names above (e.g. OneDome:BookValuationComplete) and click Save.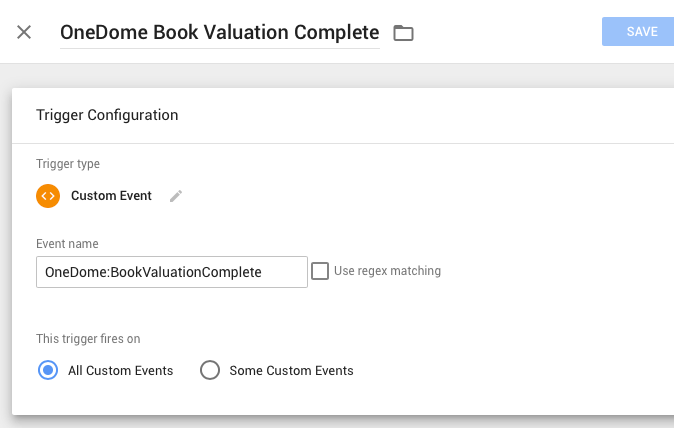 Step 3. You can now link those triggers to any tags you want. In this example, we create new Google Analytics tag and configure it to fire GA events with the same name.